[PRESS RELEASE] Professionals' personal brand page builder Ceeya doubles down on e-Commerce and Web3 functions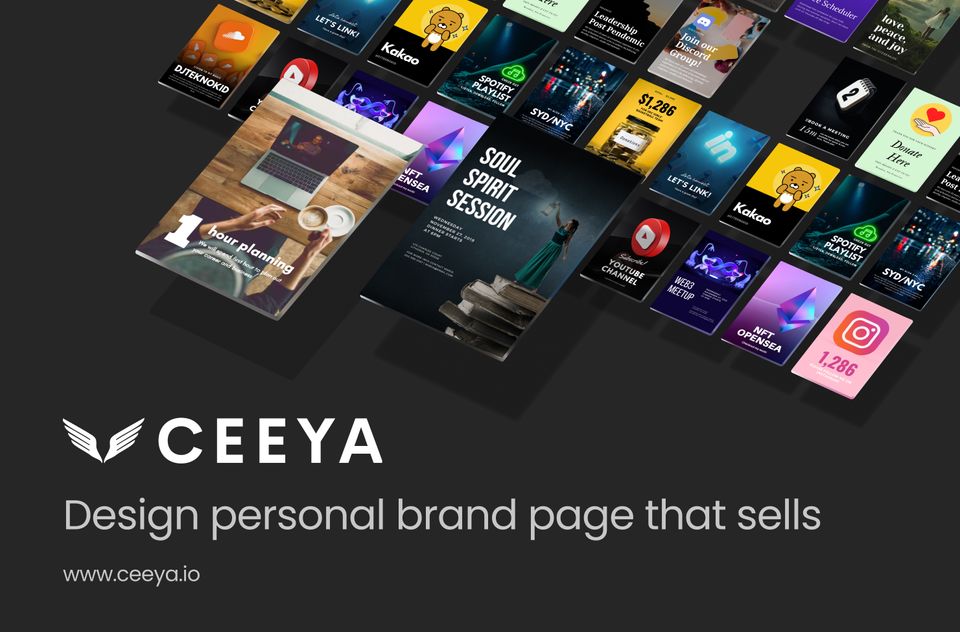 SAN FRANCISCO, Aug 15th, 2022 – Professionals' personal brand page builder Ceeya (https://home.ceeya.io/) announced that it has newly updated its website with e-Commerce and Web3 functions to better help professionals and freelancers  to be financially independent using the platform. With a mission to empower people to be independent, Ceeya will be officially launching on Product Hunt, a website to share and discover new products on 30th of August.

Ceeya recently introduced a variety of commerce features on top of the existing personal brand builder. With Ceeya, people can offer payment-integrated services, host events, automated calendar bookings, and add external links. One notable feature is its web3-integrated meeting enabled with Metamask and Huddle01, where the users can only accept meeting requests from those sharing the same smart contract address, such as NFT and a crypto token.

Ceeya aims to disrupt the $104 billion size creator economy market which hasn't caught up with the rapidly changing behavior of the internet users. The trend of building personal websites began before the era of Facebook and the creator economy. As social media as the likes of Tiktok, Instagram, and YouTube emerged and the tech space evolved over the course of time, people started to shy away from clicking the link of personal websites. There are 200 million personal websites in the world, including a showcase of a designer's portfolio, a freelancer business, real estate agent's listings, or a Doodles NFT sale for $500,000.

The problem lies in the structure of personal websites that have been stagnant the past decade. Personal websites are rooted from desktop, text, large images, and drag-and-drop editors. Now that the trend is moving from desktop to mobile, text to visual, large images to short videos, drag-and-drop editors to sharing links (a.k.a. Link-in-bio), a vast majority of personal websites are becoming irrelevant.

Nevertheless the individuals and solopreneurs in need of a strong online presence are left with little choices. Most of them end up using one of the website builders only to give up in the end, eventually hiring and paying someone thousands of dollars to realize that they cannot put together professionally-looking websites with all the business functionalities they need. It's easy to justify the cost when we live in a world where 38% of people will leave out on unattractive layout websites in the first few seconds and 88% of people will never return to sites with bad experience, such as the familiar '404 page not found'. Based on Ceeya's internal data where more than 100 personal website owners were interviewed, a staggering 92% of people responded that they spent too much time and money on something that returned little to no results.

This is where Ceeya comes in. Founded by former full-time solopreneurs and previous employees of the major tech behemoths in Silicon Valley such as Google, LinkedIn, Intel, eBay, and Walmart, Ceeya is reimagining how an online presence should be built for professionals. After working with more than 200 solopreneurs including business coaches, writers, fitness trainers, designers, and florists, Ceeya's product-obsessed founders designed and built a new category-defining and innovative 'business showcase' builder for solopreneurs. The product was built to be aligned with how people behave online. Without further ado, Ceeya's founders would let the product speak for itself.

"Our mission is to empower people to be independent. We believe Ceeya will be a catalyst to accelerate the pace where the future of work is solopreneurship" remarked Kisang Pak, co-founder and CEO of Ceeya.

"Ceeya was designed to maximize both the business functionalities and form factors of how people behave online today and tomorrow. The innovative and breakthrough 'card' concept will transform how online presence should be built for professionals." added David Lee, co-founder and CPO of Ceeya.

On average, Ceeya's users are earning up to 2.8 times more and 6 times more engagement after switching to Ceeya. Ceeya, already backed by some of well-known institutional and angel investors, is launching its innovative 'business showcase' platform on Product Hunt on 30th of August. To celebrate its launch, Ceeya is running special promotions on its premium plans.

About Ceeya
With a vision to empower people to be independent, Ceeya (https://home.ceeya.io/) is the next-generation platform for freelancers. The platform offers landing page, scheduling, payment, customer management, testimonials, communication, notifications, calendar. Ceeya also uses AI recommendations to set up freelancers' service store fronts. The platform helps users to get discovered and get more clients. Then their service will be displayed and shared on Ceeya search, Google, and the member's social media page.

Contact Details
Contact Person: Chaewon Yoo
Email: eva@ceeya.io

Social Media
Twitter: @ceeyahello
Blog: https://blog.ceeya.io/
Instagram: @ceeya.io
LinkedIn: https://www.linkedin.com/company/ceeya/